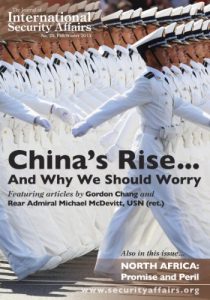 The Journal of International Security Affairs is a semi-annual, scholarly journal covering foreign and defense policy with articles, interviews, and book reviews.
In this issue: Fall/Winter 2013 – In early 2012, the Obama administration unveiled what amounted to a major shift in policy when it formally announced a "rebalancing" of American economic and political attention to Asia. Nearly two years on, this issue of The Journal takes a look at the largest strategic challenge inhabiting that region: a rising an increasingly belligerent China.

Our survey starts with China expert Gordon Chang's probing examination of what, exactly, makes new Chinese leader Xi Jinping tick. Economist Thomas Palley takes a close look at the phenomenon of "China-centric globalization," and explains why it is bad for American business. Author and retired U.S. Army officer Larry Wortzel follows up with a look at the burgeoning strategic capabilities of the People's Liberation Army—and the growing power of China's military to hold American interests at risk. Rear Admiral Mike McDevitt, USN (ret.) outlines the mounting territorial disputes and maritime claims that now dominate Beijing's relations with its Asian neighbors. Jeffrey Payne of the National Defense University takes a critical look at China's Middle East policy, and explains how recent events there have challenged Beijing's approach. The American Foreign Policy Council's Stephen Blank follows up with an exploration of China's encroachment into Russia's Far East, and what it means for relations—and the strategic balance—between the two countries. Richard Weitz of the Hudson Institute wraps up our tour d'horizon with his take on the reasons behind China's lack of leadership in addressing our pesky North Korea problem.

From there, we turn our attention to North Africa – a region where, some two-and-a-half years into the so-called Arab Spring – Islamist forces are on the ascent and democracy is in retreat. The trend lines evident there, while almost uniformly negative, are profoundly significant both for American interests and for American allies in the greater Middle East. To that end, David Pollock of the Washington Institute for Near East Policy explores the Moroccan "exception," and explains why the North African kingdom so far has remained relatively stable amid regional upheaval. Laura Grossman of the Foundation for Defense of Democracies then chronicles the sordid course of Mali's civil war, where Islamists rose to the fore, were defeated, and could very well rise again. Two experts from the Henry Jackson Society in London, Olivier Guitta and Emily Dyer, weigh in on the current state of political play in the hotspots of Tunisia and the Sinai. And we conclude with the Washington Institute's Aaron Zelin, who maps out how Libya after Qadhafi has become a major source of regional instability.

In our Herzstein Military Forum, we are pleased to feature an article by Lieutenant General Charles Cleveland, the current head of U.S. Army Special Operations Command, on how our fighting forces must adapt to better deal with what he terms, the "human terrain." Our Perspective interviewee for this issue is Amb. Paula Dobriansky, a veteran diplomat who last served as Under Secretary of State for Democracy, Human Rights, and Labor in the administration of George W. Bush. Our "dispatches" this time out come from Israel and Colombia, and we wrap up our coverage with reviews of four important books, on Hezbollah, the Arab Spring, North Korea, and Muslim demographics.

Here at The Journal, we pride ourselves in taking a sober look at the state of the world, and of U.S. policy. Today, challenges abound, as the articles in this issue so clearly illustrate. We hope that, as in previous editions, the studies collected here have helped shed some light upon the perils and opportunities facing us.
Author: Gordon Chang, Michael McDevitt, Thomas Palley, Larry Wortzel, Jeffrey Payne, Stephen Blank, Richard Weitz, David Pollock, Laura Grossman,
Edition: 25
Binding: Kindle Edition
Manufacturer: JINSA
Number of pages: 173
Product group: eBooks
Studio: JINSA
Publication Date: 2014-01-01
Publisher: JINSA
Pages: 173