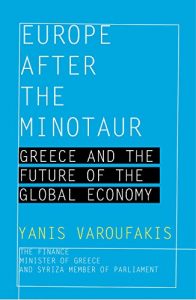 Syriza's victory in the Greek general election in January 2015 is a truly historic and profound event – the first government of the radical left in Europe since World War Two. In this short ebook, extracted from the updated edition of The Global Minotaur, Yanis Varoufakis, the new finance minister of Greece and a Syriza MP, outlines his economic and political thinking and how he believes Europe can move beyond cuts and austerity.
Varoufakis shows how today's crisis in Europe is one inevitable symptom of a global 'system' which is now as unsustainable as it is imbalanced. With powerful clarity and conviction, he lays out the options available to us for reintroducing reason into a highly irrational global economic order.
This is a unique insight into the thinking of a key figure in the Syriza government, who is set to become a hugely influential figure in European politics.
Author: Yanis Varoufakis
Edition: 1
Binding: Kindle Edition
Manufacturer: Zed Books
Number of pages: 60
Product group: eBooks
Studio: Zed Books
Publication Date: 2015-01-28
Publisher: Zed Books
Pages: 60