Summary:
Publications An emergency insulation plan to cut bills this winter Upgrading our draughty homes to save money and increase energy security By Christian Jaccarini, Paulo Yunda, Chaitanya Kumar 05 November 2022 Download the report The global energy crisis has had a profound impact on many major economies, particularly so in Europe, forcing a scramble to diversify our energy supply and end our dependence on Russian gas. The result has been an

Topics:
New Economics Foundation considers the following as important:

This could be interesting, too:

An emergency insulation plan to cut bills this winter
Upgrading our draughty homes to save money and increase energy security
---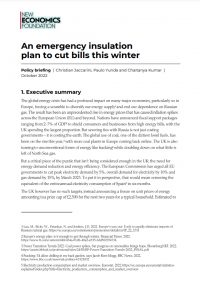 Download the report
The global energy crisis has had a profound impact on many major economies, particularly so in Europe, forcing a scramble to diversify our energy supply and end our dependence on Russian gas. The result has been an unprecedented rise in energy prices that has caused inflation spikes across the European Union (EU) and beyond. Nations have announced fiscal support packages ranging from 2 – 7% of GDP to shield consumers and businesses from high energy bills, with the UK spending the largest proportion. But severing ties with Russia is not just costing governments – it is costing the earth. The global use of coal, one of the dirtiest fossil fuels, has been on the rise this year, with more coal plants in Europe coming back online. The UK is also turning to unconventional forms of energy like fracking while doubling down on what little is left of North Sea gas.
But a critical piece of the puzzle that isn't being considered enough in the UK: the need for energy demand reduction and energy efficiency. The European Commission has urged all EU governments to cut peak electricity demand by 5%, overall demand for electricity by 10% and gas demand by 15%, by March 2023. To put it in perspective, that would mean removing the equivalent of the entire annual electricity consumption of Spain in six months.
The UK however has no such targets, instead announcing a freeze on unit prices of energy amounting to a price cap of £2,500 for the next six months for a typical household. Estimated to cost £35.5bn over six months, this energy price guarantee is poorly targeted and reduces the incentive for high energy-consuming households to curtail their energy demand. The New Economics Foundation's (NEF) proposal for a new system of free basic energy could both lower costs to households while increasing the incentive to reduce energy demand. It would do this by ensuring that while average bills were lower than under the Ofgem price cap system, the marginal price for additional energy consumption is higher.
Had the government taken energy efficiency seriously, and upgraded our housing stock, the government would have needed to spend less to maintain the energy price cap. To forecast the huge savings potential, we modelled the savings implied if all housing stock in England and Wales had been upgraded to a decent energy efficiency standard (Energy Performance Certificate C or higher) by this October. The government has already set this as a target for all fuel-poor households by 2030 and for the entire housing stock by 2035. If insulation rates had kept pace at their peak in 2012, this target would have largely been met by now.
The analysis shows that had all homes been upgraded to EPC C, government spending would have been £3.5bn lower over the six months of the frozen price cap alone (based on the current forecast for energy prices), reducing the cost of the scheme for England and Wales by 10%. Alongside this, households would also make considerable bill savings. By moving all homes to EPC band C, households in England and Wales could cumulatively be saving £7.1bn over the next year, an average of £530 per upgraded household.
So the total saving would be £10.6bn in the first year alone. The misdirection of this government's intervention is particularly evident when you consider that the government itself estimates that the UK wide cost of upgrading all homes to Energy Performance Certificate (EPC) C could be as little as £35bn – which means almost a third of the cost could have been recouped in a single year alone.
The benefits would also include reduced greenhouse gas emissions, which we estimate would fall by 9,200 kt CO2e per year – equivalent to the annual carbon footprint of Leeds, Bradford, and Bristol combined. It would also make the UK less dependent on gas imports, reducing England and Wales' demand for gas by 41,200 GWh, 7% of the total gas imported into the UK last year. This is a greater priority than ever, with the energy regulator Ofgem warning recently that the UK could face a severe risk of gas shortages this winter.
The ​'mini budget' announced in September did include additional funding of £1bn over three years to expand the Energy Company Obligation (ECO) scheme, which obliges suppliers to provide energy efficiency measures to certain households. The scheme remains the flagship energy efficiency policy and it is no surprise that the government has turned to it again. This additional support represents a 30% jump in the annual spending allocation for the programme and is expected to be delivered through two key mechanisms. The first is focused on narrowing the eligibility criteria of the ECO scheme to deliver fully funded low-cost efficiency measures like loft and cavity wall insulation to low-income and fuel-poor homes. The second is through grants of up to £1,500 targeting the least efficient homes in lower council tax bands.
However, considering the scale of the energy price guarantee, which simply transfers huge amounts of public money into the pockets of energy suppliers, this support of £330m for energy efficiency is a pittance and also highlights a key missed opportunity to use the crisis as a way to engage the public in a much wider energy efficiency and demand reduction programme. Crucially, the policy won't even start until April next year: the date by which the EU has a target to reduce electricity consumption on a scale equivalent to current consumption in Spain.
The government should get on with insulating homes this winter as part of an emergency insulation programme. An estimated 10m properties in some of the most fuel-poor homes have a loft and/​or cavity wall that can easily be insulated affordably and quickly, cutting bills permanently for those that most need it.

Image: iStock/​artursfoto
Campaigns Great Homes Upgrade
Topics Housing & land