Summary:
Όχι στο αμερικανοκίνητο πραξικόπημα στη Βενεζουέλα Αλληλεγγύη στον λαό και στην δημοκρατικά εκλεγμένη κυβέρνηση της Βενεζουέλας Αυτές τις ημέρες εξελίσσεται σταδιακά άλλο ένα πραξικόπημα στην πολύπαθη Λατινική Αμερική. Οι ΗΠΑ και η εγχώρια ολιγαρχία της Βενεζουέλας προσπαθούν να εγκαταστήσουν έναν μέχρι πρότινος άγνωστο αχυράνθρωπο τους που ουδέποτε ψηφίσθηκε από οποιονδήποτε στην εξουσία. Η προσπάθεια αυτή δεν είναι νέα. Εδώ και αρκετά χρόνια οι ΗΠΑ και η εγχώρια ολιγαρχία προσπαθούν να αποκτήσουν ξανά τον έλεγχο της πλούσιας σε πετρέλαιο χώρας. Για να το επιτύχουν αυτό όλο το προηγούμενο διάστημα οργάνωσαν ένα αποτυχημένο πραξικόπημα, εξαπέλυσαν δολοφονικές συμμορίες από όλη την Λατινική Αμερική και κυριολεκτικά στραγγάλισαν οικονομικά την Βενεζουέλα. Σήμερα, η ακροδεξιά
Topics:
Stavros Mavroudeas considers the following as important:
Πολιτικές παρεμβάσεις - Political interventions
This could be interesting, too:
Stavros Mavroudeas writes No to the US-led coup d' etat in Venezuela – 50 academics, intellectuals and trade-unionists from Greece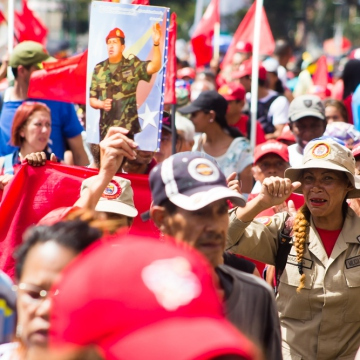 Όχι στο αμερικανοκίνητο πραξικόπημα στη Βενεζουέλα
Αλληλεγγύη στον λαό και στην δημοκρατικά εκλεγμένη κυβέρνηση της Βενεζουέλας
Αυτές τις ημέρες εξελίσσεται σταδιακά άλλο ένα πραξικόπημα στην πολύπαθη Λατινική Αμερική. Οι ΗΠΑ και η εγχώρια ολιγαρχία της Βενεζουέλας προσπαθούν να εγκαταστήσουν έναν μέχρι πρότινος άγνωστο αχυράνθρωπο τους που ουδέποτε ψηφίσθηκε από οποιονδήποτε στην εξουσία. Η προσπάθεια αυτή δεν είναι νέα. Εδώ και αρκετά χρόνια οι ΗΠΑ και η εγχώρια ολιγαρχία προσπαθούν να αποκτήσουν ξανά τον έλεγχο της πλούσιας σε πετρέλαιο χώρας. Για να το επιτύχουν αυτό όλο το προηγούμενο διάστημα οργάνωσαν ένα αποτυχημένο πραξικόπημα, εξαπέλυσαν δολοφονικές συμμορίες από όλη την Λατινική Αμερική και κυριολεκτικά στραγγάλισαν οικονομικά την Βενεζουέλα. Σήμερα, η ακροδεξιά Ρεπουμπλικανική κυβέρνηση Τραμπ, με την σύμπραξη όμως των γερακιών του «φιλελεύθερου» Δημοκρατικού Κόμματος, προχωρά ακόμη περισσότερο απειλώντας με ανοικτή στρατιωτική επέμβαση. Σύσσωμος σχεδόν ο «δημοκρατικός» Δυτικός κόσμος στοιχίζεται πίσω της την ίδια ώρα που καλύπτει και χαριεντίζεται με αιματοβαμμένες δικτατορίες και μοναρχίες και ενώ με τις κοινές στρατιωτικές επεμβάσεις του κατά τις πρόσφατες δεκαετίες έχει σπείρει στον κόσμο πολέμους, καταστροφές και ερείπια. Ιδιαίτερα τα συστημικά μέσα μαζικής «ενημέρωσης» εξαπολύουν ένα χυδαίο πόλεμο παραπληροφόρησης σχετικά με την κατάσταση στην Βενεζουέλα.
Ο λαός της Βενεζουέλας ανατρέποντας το προηγούμενο διεφθαρμένο ολιγαρχικό πολιτικό σύστημα και φέρνοντας στην εξουσία τον Ούγκο Τσάβες έσπασε τις αλυσίδες που τον κρατούσαν δέσμιο των ΗΠΑ και της εγχώριας ολιγαρχίας και προσπάθησε να οικοδομήσει μία χώρα στη βάση της κοινωνικής δικαιοσύνης. Στον δρόμο αυτό υπήρξαν και υπάρχουν και προβλήματα και αδυναμίες και υπαναχωρήσεις. Ο Δυτικός οικονομικός στραγγαλισμός όξυνε και επιδείνωσε τα τελευταία χρόνια τα φαινόμενα αυτά. Όμως κάθε λαϊκός αγώνας για ένα καλύτερο μέλλον δεν είναι ανέξοδος και σίγουρα η επαναφορά της ληστοκρατικής και υπόδουλης στη Δύση ολιγαρχίας στην εξουσία δεν θα βελτιώσει αλλά θα χειροτερεύσει την θέση του λαού της Βενεζουέλας.
Καλούμε όλες τις προοδευτικές φωνές και δυνάμεις στη χώρα μας να πουν σθεναρά ΟΧΙ στο εξελισσόμενο πραξικόπημα και να σταθούν δίπλα στον αγωνιζόμενο λαό της Βενεζουέλας και την δημοκρατικά εκλεγμένη κυβέρνηση του και τον πρόεδρο Ν.Μαδούρο.
Βασιλείου Μίλτος, Αν. Καθηγητής, Παν. Ιωαννίνων
Γκιάλης Στέλιος, Επικ. Καθηγητής, Παν. Αιγαίου
Γράβαρης Διονύσης, Καθηγητής, Πάντειο Πανεπιστήμιο
Γρόλλιος Γιώργος, Καθηγητής, ΑΠΘ
Δινοπούλου Βαγγελίτσα, μέλος ΔΣ ΔΟΕ
Ζαβουδάκης Παναγιώτης, εκπαιδευτικός
Ζορμπαλά Αλέκα, δικηγόρος
Ζορμπαλά Κωνσταντίνα, Επίκ. Καθηγήτρια, Παν. Αιγαίου
Θαλάσσης Γιώργος, εκπαιδευτικός, τέως γεν γραμματέας Βουλής
Θερμογιάννης Λάζαρος, πρώην δήμαρχος Μεταμόρφωσης
Ιωαννίδης Αλέξης, Αν. Καθηγητής, ΔΠΘ
Καλτσώνης Δημήτρης, Αν. Καθηγητής, Πάντειο Πανεπιστήμιο
Κάργας Γιώργος, Αν. Καθηγητής, ΓΠΑ
Κασίμης Νίκος, πρώην δημ. σύμβουλος Ν.Φιλαδέλφειας
Κατσούλας Άκης, πρώην Πρόεδρος Συλλ. Ελλήνων Κοινωνιολόγων
Κεντρωτής Γιώργος, Καθηγητής, Ιόνειο Πανεπιστήμιο
King Μίνα, ηθοποιός
Κουζής Γιάννης, Καθηγητής, Πάντειο Πανεπιστήμιο
Μαούνης Αντώνης, Ειδ.Γραμματέας (πρώην πρόεδρος) Συλλ. Ελλήνων Αρχιτεκτόνων
Μαρούδας Λεωνίδας, Καθηγητής, Παν. Πατρών
Μαυρουδέας Σταύρος, Καθηγητής, Πάντειο Πανεπιστήμιο
Μαυρούλη Ελένη, δημοσιογράφος
Μπακαλέξη Ντίνα, φιλόλογος, ερευνήτρια CNRS
Μπακοπάνος Λευτέρης, ΔΣ ΠΣΑΤΜ
Μικρούτσικος Θάνος, συνθέτης
Μιλτσακάκης Μιχάλης, μέλος ΕΕ ΑΔΕΔΥ
Μόσχου Δώρα, ιστορικός
Μπαλάτσα Ιωάννα, πρώην ΔΣ ΠΣΑΤΜ
Νικολαϊδου Όλγα δημοσιογράφος, ηθοποιός
Οικονομάκης Γιώργος, Αν. Καθηγητής, Παν. Πατρών
Παντελιού Σοφία, Καθηγήτρια, Παν. Πατρών
Παπαγιάννη Μαρία, συγγραφέας
Παπαθεοδώρου Χρίστος, Καθηγητής, Πάντειο Πανεπιστήμιο
Πατέλης Δημήτρης, Αν. Καθηγητής, Πολυτεχνείο Κρήτης
Παυλόπουλος Γιώργος, συνδικαλιστής ΟΤΟΕ
Πεμπετζόγλου Μαρία, Αν. Καθηγήτρια, ΔΠΘ
Πετρόπουλος Δημήτρης, Πρόεδρος ΔΣ ΠΟ ΕΜΔΥΔΑΣ
Ρηγόπουλος Κίμων, ηθοποιός
Ρίτσου Έρη , συνταξιούχος τραπεζικός
Ρούσης Γιώργος, ομ. Καθηγητής, Πάντειο Πανεπιστήμιο
Σακελλαρόπουλος Σπύρος, Καθηγητής, Πάντειο Πανεπιστήμιο
Σταυρόπουλος Τάσος, πρόεδρος συνταξιούχων ΠΕΣΕΚ
Τζιαντζή Μαριάννα, δημοσιογράφος-συγγραφέας
Τρικαλινός Χρίστος, ομ. Καθηγητής, ΕΚΠΑ
Τρύφωνας Σπύρος, Συνταξιούχος – τ. Μέλος ΔΣ ΟΕΒΕΚ & Επιμελητηρίου
Τσέλιου Βάντα, εκπαιδευτικός
Φασουλάς Γιάννης, συνταξιούχος, πρώην Πρόεδρος Συλλόγου Προσωπικού ΕΥΔΑΠ
Φουσέκης Παναγιώτης, Καθηγητής, ΑΠΘ
Χαρίσης Γιώργος μέλος διοίκησης ΑΔΕΔΥ
Χατζόπουλος Στάθης, δικηγόρος
Η συλλογή υπογραφών συνεχίζεται στην ηλεκτρονική πλατφόρμα:
https://secure.avaaz.org/el/community_petitions/_Ohi_sto_amerikanokinito_praxikopima_sti_Venezoyela/details/