Summary:
Τα πράγματα είναι, δυστυχώς, απλά. Το έγκλημα της Μόρια δεν προκύπει από αμέλεια αλλά είναι σχεδιασμένο. Η κυβέρνηση του ΣΥΡΙΖΑ που δημιούργησε την Μόρια, υπό τον κ. Μουζάλα, ως στρατόπεδο όπου συνωστίζονται και στιβάζονται ανθρώπινα ράκη, το έπραξε συνειδητά με σκοπό να σηματοδοτεί στους συγγενείς και φίλους τους "μην έρθετε στην Ελλάδα, τα πράγματα είναι τραγικά". Το μόνο που αλλάζει με την κυβέρνηση της ΝΔ είναι ότι οι συνθήκες "διαβίωσης" θα χειροτερεύσουν για όσους μετανάστες δεν συμμορφώνονται και οι καταυλισμοί θα αποκτήσουν κι άλλα συρματοπλέγματα, μετατρεπόμενα από κατάπτυστους καταυλισμούς σε "κανονικά" στρατόπεδα συγκέντρωσης. Η συζήτηση στη Βουλή μεταξύ του Γραμματέα του ΜέΡΑ25 Γιάνη Βαρουφάκη και
Topics:
Yanis Varoufakis considers the following as important:
Box0_TOP_GRE
,
DiEM25 Ελλάδας
,
Ελληνικά
,
Το ΜέΡΑ25 στη Βουλή
This could be interesting, too: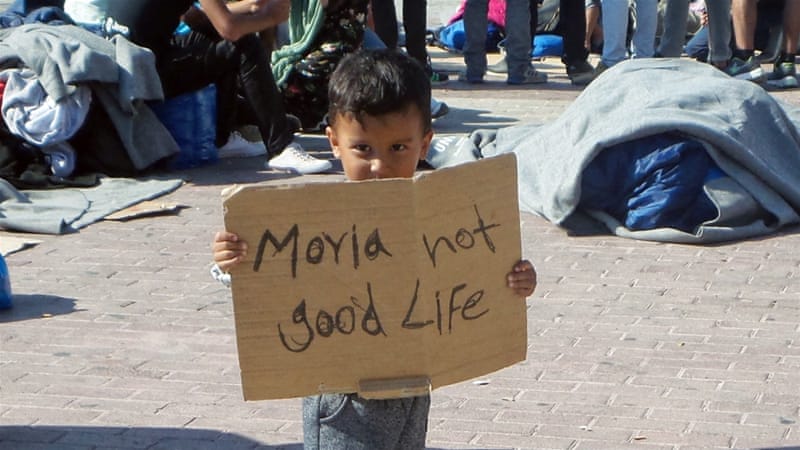 Τα πράγματα είναι, δυστυχώς, απλά. Το έγκλημα της Μόρια δεν προκύπει από αμέλεια αλλά είναι σχεδιασμένο. Η κυβέρνηση του ΣΥΡΙΖΑ που δημιούργησε την Μόρια, υπό τον κ. Μουζάλα, ως στρατόπεδο όπου συνωστίζονται και στιβάζονται ανθρώπινα ράκη, το έπραξε συνειδητά με σκοπό να σηματοδοτεί στους συγγενείς και φίλους τους "μην έρθετε στην Ελλάδα, τα πράγματα είναι τραγικά". Το μόνο που αλλάζει με την κυβέρνηση της ΝΔ είναι ότι οι συνθήκες "διαβίωσης" θα χειροτερεύσουν για όσους μετανάστες δεν συμμορφώνονται και οι καταυλισμοί θα αποκτήσουν κι άλλα συρματοπλέγματα, μετατρεπόμενα από κατάπτυστους καταυλισμούς σε "κανονικά" στρατόπεδα συγκέντρωσης.
Η συζήτηση στη Βουλή μεταξύ του Γραμματέα του ΜέΡΑ25 Γιάνη Βαρουφάκη και του Πρωθυπουργού Κυριάκου Μητσοτάκη είναι άκρως αποκαλυπτική: Αποκαλύπτει την σύγκρουση των δύο κόσμων. Εκείνο του Μνημονιακού Δικομματισμού που αντιμετωπίζει τους μετανάστες ως απειλή. Και τον άλλο κόσμο που αντιπροσωπεύει το ΜέΡΑ25, εκείνον του Ριζοσπαστικούν Ανθρωπισμού ο οποίος βλέπει τους μετανάστες πρωτίστως ως συνανθρώπους και δευτερευόντως ως ευκαιρία. Παρακολουθείστε την:
ΕΡΩΤΗΣΗ ΤΟΥ ΓΡΑΜΜΑΤΕΑ ΓΙΑΝΗ ΒΑΡΟΥΦΑΚΗ ΣΤΟΝ ΠΡΩΘΥΠΟΥΡΓΟ
Κύριε Πρωθυπουργέ, Κατ΄αρχάς σας τιμά η επαναφορά της Ώρας του Πρωθυπουργού, αν και θα προτιμούσα το μοντέλο της Βουλής των Κοινοτήτων, χωρίς γραπτά ερωτήματα – η Βουλή θα αναβαθμιζόταν με αυθόρμητες ερωτοαπαντήσεις – και κλήρωση ίσως των ερωτώντων.
Θεμέλιο του ερωτήματός μου, το οποίο επιλέξατε να απαντήσετε, κρύβεται η φράση: «Δείξε μου πως φέρεσαι στον κατατρεγμένο να σου πω ποιος είσαι – ως άτομο, ως χώρα.» Στη βάση αυτής της αρχής, πρέπει όλοι μας να ντρεπόμαστε.
Κύριε Πρωθυπουργέ, Είμαι σίγουρος πως συμφωνείτε ότι:
Πυρκαγιές σαν αυτή που στοίχισε ζωές συνανθρώπων μας στη Μόρια είναι αναπόφευκτες όταν χιλιάδες άνθρωποι ζουν συνωστισμένοι και σε συνθήκες εξαθλίωσης.

Καταυλισμοί όπως εκείνος στη Μόρια της Λέσβου δεν συνάδουν με τις αρχές και αξίες πολιτισμένης, φιλελεύθερης χώρας.

Κανένα κράτος δικαίου δεν μπορεί να κάθετε με σταυρωμένα χέρια όταν χιλιάδες συνάνθρωποι μας ετοιμάζονται θα αντιμετωπίσουν τον 5ο σκληρό χειμώνα ανοχύρωτοι μπροστά στο κρύο και τη βροχή.

Οι έλληνες κάτοικοι της Λέσβου συνεχίζουν να υπομένουν την γειτνίαση, καθώς και την ταύτιση του τόπου τους στα μάτια της διεθνούς κοινής γνώμης, με καταυλισμούς-στρατόπεδα που καταστρατηγούν βασικά ανθρώπινα δικαιώματα.
Κύριε Πρωθυπουργέ, Επειδή πιστεύω ότι συμφωνείτε με τα πιο πάνω, σας ερωτώ:
Ποια η διαφορά της δικής σας πολιτικής από εκείνη της προηγούμενης κυβέρνησης που ενέδωσε στη συμφωνία Μέρκελ-Ερντογάν κανονικοποιώντας τις κακουχίες των μεταναστών στη Μόρια ως μέσο σηματοδότησης σε εν δυνάμει μετανάστες να μην έρθουν στη χώρα – στο πλαίσιο της πολιτικής της ΕΕ: PREVENTION THROUGH DETERRENCE δηλαδή ΠΡΟΛΗΨΗ ΜΕΣΩ ΑΠΟΤΡΟΠΗΣ

Πως θα αντιμετωπίσετε τον Στρατηγό Χειμώνα που έρχεται να πλήξει απάνθρωπα τους συνανθρώπους μας;

Προτίθεστε να κλείσετε τη Μόρια;

Πότε θα προβεί η Πολιτεία στο αυτονόητο βήμα της δημιουργίας πολλών μικρών δομών ανά την επικράτεια ώστε οικογένειες μεταναστών που σήμερα βρίσκονται στη Μόρια να ενταχθούν στις ανά την χώρα τοπικές κοινωνίες με τρόπο που να ωφελεί τόσο τις τοπικές κοινωνίες όσο και τους κατατρεγμένους που βρήκαν καταφύγιο στη χώρα μας; Ή τελικά η Μόρια είναι η βάση του υποδείγματος στρατόπεδου συγκέντρωσης που θα κλωνοποιήσετε;

Θα καταργήσετε τα ιδιότυπα εσωτερικά σύνορα στη χώρα, που αφαιρούν από μετανάστες το δικαίωμα της ελεύθερης διακίνησης εντός της χώρας και εγκλωβίζουν κατοίκους των νησιών μας (έλληνες και μετανάστες); Ή απλά θα αντικαταστήσετε με τείχη και τα συρματοπλέγματα με τα οποία θα αναβαθμίσετε τις διάφορες Μόριες;