Summary:
Εύχομαι σε όλους να καταφέρουμε φέτος να ρίξουμε μαύρη πέτρα στην δεκαετία της βαρβαρότητας. Κάθε μία από τις δέκα περασμένες Πρωτοχρονιές έσφυζε από τις ψευδείς υποσχέσεις ενός συστήματος εξουσίας που, ενώ έφερε την Κρίση, επιμένει να αυτοπαρουσιάζεται ως η Λύση. Όμως, όπως καλά γνωρίζουμε, Η προκοπή, η δικαιοσύνη, η αξιοπρέπεια, η ειρήνη δεν θα έρθουν μόνες τους. Οι εξώσεις και η στυγνή εκμετάλλευση δεν θα αντιμετωπιστούν μόνες τους. Τα παιδιά της Κρίσης δεν θα επιστρέψουν μόνα τους. Απαιτούν από εμάς αρετή και τόλμη, υπευθυνότητα και ανυπακοή, αγάπη και αποφασιστικότητα. Το ΜέΡΑ25 είναι εδώ για να προστατέψει το κεράκι της ελπίδας που τρεμοπαίζει στον ψυχρό αέρα της κάλπικης
Topics:
Yanis Varoufakis considers the following as important:
Box0_TOP_GRE
,
DiEM25 Ελλάδας
,
English
,
Δηλώσεις
,
Ελληνικά
,
ΜέΡΑ25
This could be interesting, too: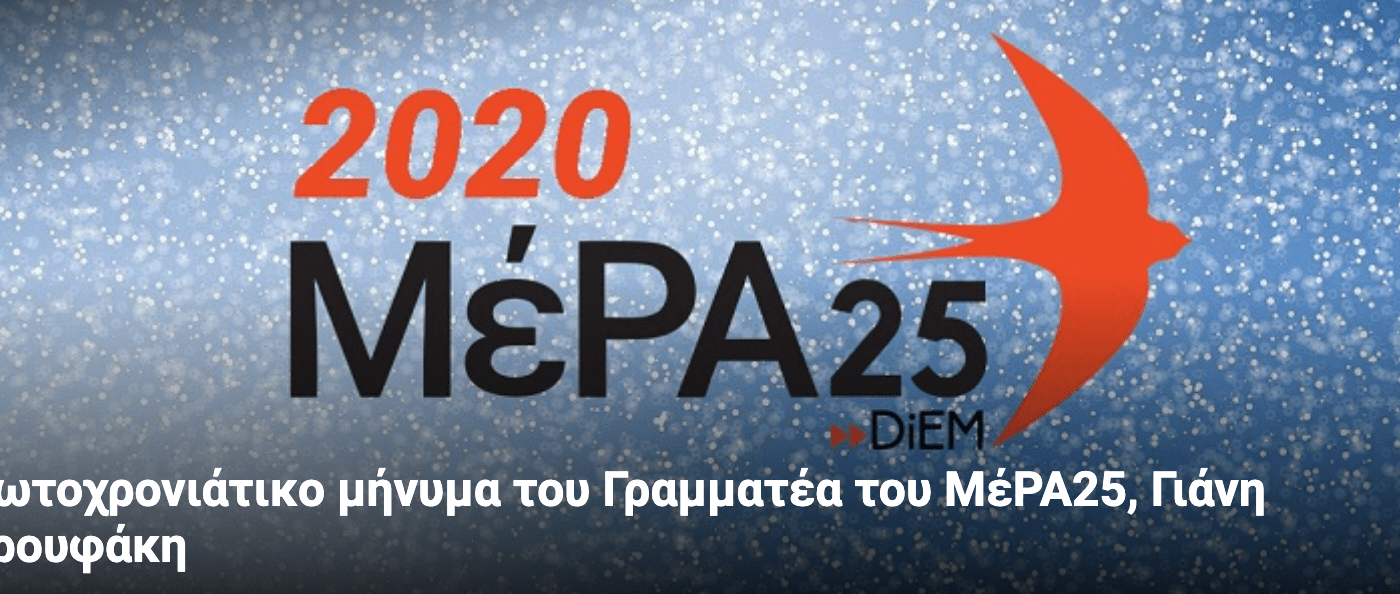 Εύχομαι σε όλους να καταφέρουμε φέτος να ρίξουμε μαύρη πέτρα στην δεκαετία της βαρβαρότητας.
Κάθε μία από τις δέκα περασμένες Πρωτοχρονιές έσφυζε από τις ψευδείς υποσχέσεις ενός συστήματος εξουσίας που, ενώ έφερε την Κρίση, επιμένει να αυτοπαρουσιάζεται ως η Λύση.
Όμως, όπως καλά γνωρίζουμε,
Η προκοπή, η δικαιοσύνη, η αξιοπρέπεια, η ειρήνη δεν θα έρθουν μόνες τους.
Οι εξώσεις και η στυγνή εκμετάλλευση δεν θα αντιμετωπιστούν μόνες τους.
Τα παιδιά της Κρίσης δεν θα επιστρέψουν μόνα τους.
Απαιτούν από εμάς αρετή και τόλμη, υπευθυνότητα και ανυπακοή, αγάπη και αποφασιστικότητα.
Το ΜέΡΑ25 είναι εδώ για να προστατέψει το κεράκι της ελπίδας που τρεμοπαίζει στον ψυχρό αέρα της κάλπικης αισιοδοξίας των κατεχόντων, της νέας διχόνοιας που καλλιεργείται στο όνομα της επιστροφής σε μια κανονικότητα-φούσκα, του φόβου που βιώνουν οι αδύναμοι έλληνες, οι κατατρεγμένοι μετανάστες.
Ευτυχισμένο το 2020 λοιπόν. Χρόνια πολλά, με προσωπική ευτυχία, αγάπη, φιλία και γενικευμένη αλληλεγγύη!