Summary:
[embedded content] Το φάντασμα του 5ου Μνημονίου πλανάται πάνω από τη χώρα, φέρνοντας μειώσεις μισθών και συντάξεων, περαιτέρω φτωχοποίηση των ήδη φτωχών, και εξανδραποδισμό των μικρομεσαίων. Ταυτόχρονα, παραδίδει στην ολιγαρχία-χωρίς-σύνορα ό,τι απέμεινε από τον δημόσιο και ιδιωτικό πλούτο της χώρας (αρπακτικά ταμεία, αρπακτικές εξορυκτικές εταιρείες, αρπακτική διαπλοκή). Στον Καιρό του Κορωνοϊού, μπροστά στο φάσμα της νέας οικονομικής κατάρρευσης και του νέου εκτροχιασμού του Χρέους, ο ενστερνισμός από τον κ. Μητσοτάκη του αιτήματος για ευρωομόλογο ήταν η «Τελευταία Μπλόφα» του. Όταν του το αρνήθηκαν, απλώς το «ξέχασε» και, έτσι, έστρωσε το δρόμο για την απάνθρωπη Νέα Λιτότητα, που θα
Topics:
Yanis Varoufakis considers the following as important:
Video
,
Δηλώσεις
,
Ελληνικά
,
ΜέΡΑ25
This could be interesting, too: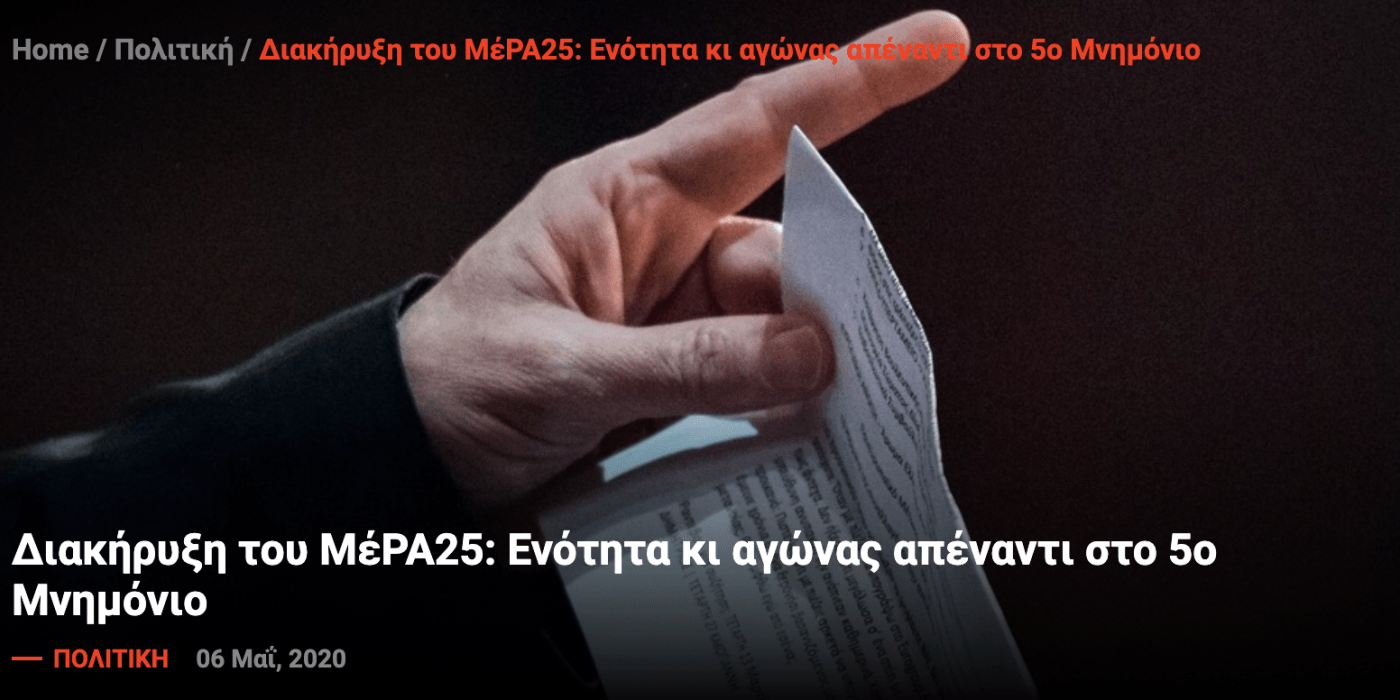 Το φάντασμα του 5ου Μνημονίου πλανάται πάνω από τη χώρα, φέρνοντας μειώσεις μισθών και συντάξεων, περαιτέρω φτωχοποίηση των ήδη φτωχών, και εξανδραποδισμό των μικρομεσαίων. Ταυτόχρονα, παραδίδει στην ολιγαρχία-χωρίς-σύνορα ό,τι απέμεινε από τον δημόσιο και ιδιωτικό πλούτο της χώρας (αρπακτικά ταμεία, αρπακτικές εξορυκτικές εταιρείες, αρπακτική διαπλοκή).
Στον Καιρό του Κορωνοϊού, μπροστά στο φάσμα της νέας οικονομικής κατάρρευσης και του νέου εκτροχιασμού του Χρέους, ο ενστερνισμός από τον κ. Μητσοτάκη του αιτήματος για ευρωομόλογο ήταν η «Τελευταία Μπλόφα» του. Όταν του το αρνήθηκαν, απλώς το «ξέχασε» και, έτσι, έστρωσε το δρόμο για την απάνθρωπη Νέα Λιτότητα, που θα φέρει το 5ο Μνημόνιο από τα μέσα του 2021 και για χρόνια πολλά.
Από σήμερα, όλοι οι χειρισμοί της κυβέρνησης στοχεύουν μόνο και μόνο σε εκλογική νίκη, την οποία θα προσπαθήσει να υφαρπάξει από το λαό πριν οι πολίτες συνειδητοποιήσουν τη λεηλασία που σχεδιάζει για λογαριασμό της παρασιτικής ολιγαρχίας.
Η μετά μετά-τον-κορωνοϊό εποχή απαιτεί Ενότητα κι Αγώνα. Για αυτό, το ΜέΡΑ25 καλεί τους πολίτες σε παλλαϊκή συστράτευση στη βάση συμφωνίας που περιλαμβάνει επτά σημεία:
ΔΗΜΟΣΙΟ ΧΡΕΟΣ: Βέτο σε κάθε Eurogroup και Σύνοδο Κορυφής, έως ότου αναδιαρθρωθεί βαθιά το ελληνικό δημόσιο χρέος και προχωρήσει, στην πράξη, ο επιμερισμός των βαρών της Κρίσης σε πανευρωπαϊκό επίπεδο

ΚΟΚΚΙΝΑ ΔΑΝΕΙΑ: Ίδρυση Δημόσιας Εταιρείας Αναδιάρθρωσης & Διαχείρισης Ιδιωτικών Χρεών που βάζει τέλος στο σχέδιο «Ηρακλής», καταργώντας τον ζωτικό χώρο των αρπακτικών ταμείων και εξασφαλίζοντας, έτσι, τη δίκαιη προστασία της λαϊκής κατοικίας και των μικρομεσαίων

ΤΡΑΠΕΖΕΣ-ΣΥΣΤΗΜΑ ΠΛΗΡΩΜΩΝ: Οι ελληνικές τράπεζες πτώχευσαν και πάλι. Αυτή τη φορά δεν θα επιτρέψουμε να τους δοθεί δημόσιο χρήμα, χωρίς: (α) την κρατικοποίησή τους και (β) το σπάσιμο του τραπεζικού μονοπωλίου στις ηλεκτρονικές πληρωμές, μέσω της ίδρυσης Δημόσιου Συστήματος Ηλεκτρονικών Πληρωμών· σύστημα που θα επιτρέπει τις δωρεάν συναλλαγές, χωρίς τραπεζική διαμεσολάβηση.

ΕΡΓΑΣΙΑ: Καθιέρωση Αξιοπρεπούς Βασικού Εισοδήματος για όλους, άμεση κατάργηση του καθεστώτος των «ενοικιαζόμενων» εργαζόμενων, και Συλλογικές Συμβάσεις για όλους

ΦΟΡΟΛΟΓΙΑ: Άμεση κατάργηση προπληρωμών φόρων και βαθιά κουρέματα σε φόρους νοικοκυριών και μικρομεσαίων επιχειρήσεων, ιδίως όσων χτυπήθηκαν από την καραντίνα

ΤΕΛΟΣ ΣΤΙΣ ΕΞΟΡΥΞΕΙΣ: Τα ορυκτά καύσιμα να μείνουν στα έγκατα της γης

ΣΤΡΑΤΟΠΕΔΑ ΣΥΓΚΕΝΤΡΩΣΗΣ: Άμεση κατάργηση όλων των «κλειστών κέντρων» συγκέντρωσης των μεταναστών
Το 2010, η κοινωνία μας βρέθηκε απροετοίμαστη. Αιφνιδιάστηκαν οι πολίτες και υπέκυψαν στην ενορχηστρωμένη επίθεση της τρόικας και το όργανο βασανισμού της, το 1ο Μνημόνιο.
Το 2020 πια γνωρίζουμε. Αυτή τη φορά «άγνοια» δεν συγχωρείται. Οφείλουμε εγκαίρως να προετοιμάσουμε, ενωμένοι, τον αγώνα για την αποτροπή του 5ου Μνημονίου.